Awards Given to Zeta Beta - Affirmative Action Award
In 1984, VPI began the Affirmative Action Award which recognized people or groups for extraordinary efforts to benefit minorities, women and the handicapped. In 1985, Zeta Beta won commendation for this award (runner up).
In 1986, thanks to the initiative of Joseph C. Ostrowski, Service Vice President, and the strong efforts of all ZB Brothers, Alpha Phi Omega became the first student organization ever to receive this award.
In 1987 Zeta Beta received a second commendation for this award. The Brothers of ZB engaged in the following projects which led to their winning of the award in 1986:
R.A.F.T. hotline donations to the Women's Resource Center
Superdance to raise money for Muscular Dystrophy
Yard Sale donations to the American Cancer Society
Special Olympics volunteers
Donation to Camp Easter Seals from UMOC
Visits to Heritage Hall
Other Award Links:
H. Roe Bartle Chapter Award
Miscellaneous Awards
---
Powered by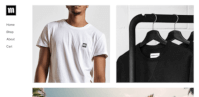 Create your own unique website with customizable templates.